From difficulties comes innovation.
The first reaction in the face of novelty has always been a certain mistrust but this does not mean that unknown means of lesser value. The new era has brought an exponential growth of technology and its participation also within the artistic universe. The digital can be a world unto itself, or an extension of the physical, which allows its completion through animation. More and more people are approaching the world of Crypto Art and NFTs, offering great advantages of expression, freedom, immediacy and decentralization.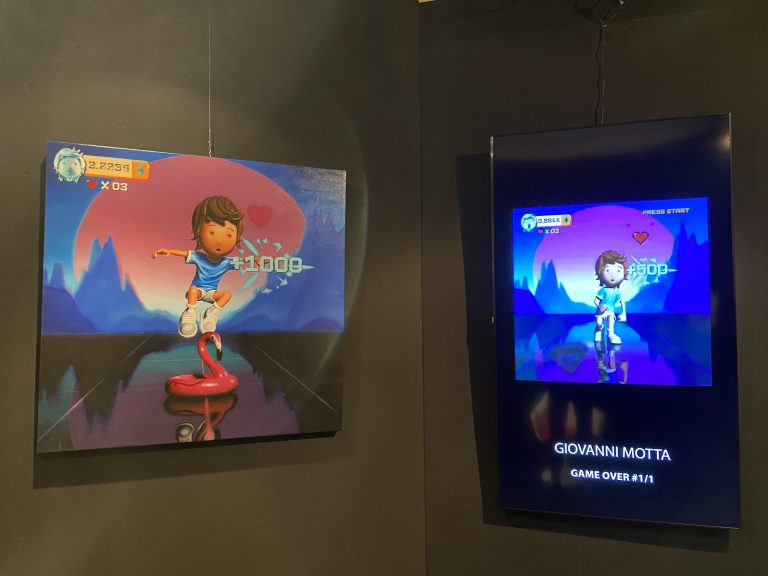 Giovanni Motta, Game Over
WILL THE GALLERIES DISAPPEAR WITH THE ARRIVAL OF CRYPTO ART?
The role of galleries will have to evolve, adapting to the times and artistic forms of the moment but the essence does not change. The gallerist remains a key player in guiding his collectors. Within a new landscape, the advice of a trusted expert is even more necessary, who makes his way into a vast sea where it is difficult to choose. The gallery can therefore facilitate the collector by suggesting which artists and works carry within them the most deserving cultural projects or the safest growth prospects of value. The gallery also has the role of educator in itself, to help understand and manage a technology that is not always immediate, for example how to create a crypto wallet (virtual wallet) for the collector or how to create an NFT for an artist. The ZANINI ARTE Gallery is among the very first galleries to believe in this evolution and present the two forms of art together, both physical and digital, by combining physical canvases and screens containing NFTs. A convergence of two worlds: physical, traditional and crypto, digital, in order to connect the past and the future of the world of art.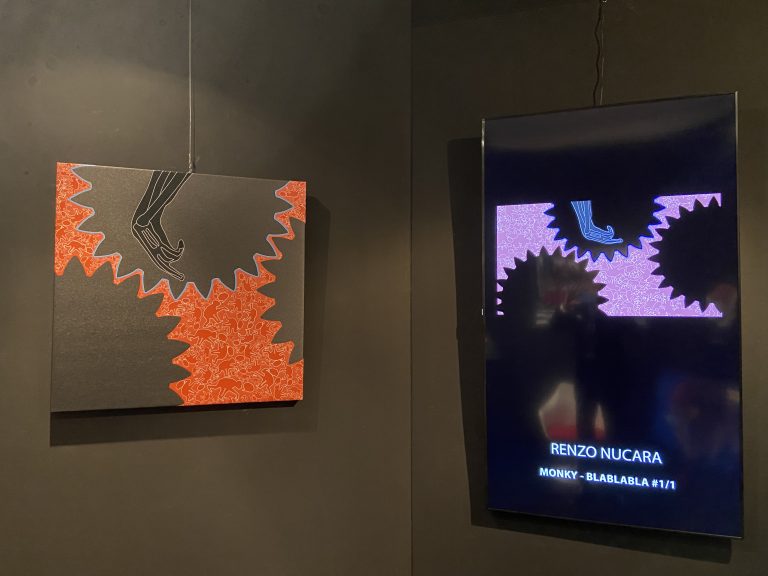 Renzo Nucara, MONKY BlaBlaBla
WHY ARE YOUNG PEOPLE MORE WAY TO BUY DIGITAL WORKS?
Market surveys recognize that the average age of digital art consumers is much lower than that of the traditional art market. For the new generations, digital natives, viewing through a screen is something natural and the issues of owning the work through files instead of materiality are not strange at all. In recent years, many museums and art institutions have begun to invest in digitization, a modernization that allows you to get closer to even the youngest public, which needs new stimuli. as well as solving major issues of archiving, documentation and conservation.
WHAT WILL THE FUTURE OF ART BE?
Crypto Art is nothing more than a new movement, a new frontier. Digital will not destroy physical art, just as contemporary art has never canceled the splendor of ancient art. They will live together complementing and alternating according to tastes and needs. The vision of the future of the world of art is rosy, it promises an evolution, in step with its time, and technology through new media.